A surefire way to scale sales on Amazon is by optimizing your listing. I can say this goes for your own web store as well. The reason there is such heavy focus on Amazon listing optimization is for the following reasons:
You're competing against hundreds, possibly thousands of vendors selling the same or similar product.
Amazon is now, or close to, the largest search engine for products in the world. Amazon SEO is key.
Google ranks Amazon products extremely well, with the right listing optimization, you can rank high in Google search leveraging Amazon.
An optimized listing has a much higher chance of conversion than a non-optimized listing.
Optimized listings ensure trust with buyers.
Let's look at everything you can and should optimize to create a perfect optimized listing on Amazon.com to sell your product.
#1: PRODUCT TITLE
This is the incredibly important. I'm always surprised at the missed opportunities that happen at the title level. Amazon allows 250 characters, although suppresses listings around 200, to create a product title and include an insane amount of keywords relevant to what the customer is looking for. In order to come up with a great title for your product and make the most use of it, think of the following:
What would the customer type in the search?
What are the most important keywords. Consider adding them first.
What are the most relevant keywords that aren't necessarily about the product but can apply to it?
Are customers looking for this product by characteristics like color? size? weight? Add that!
Does the product come with additional pieces?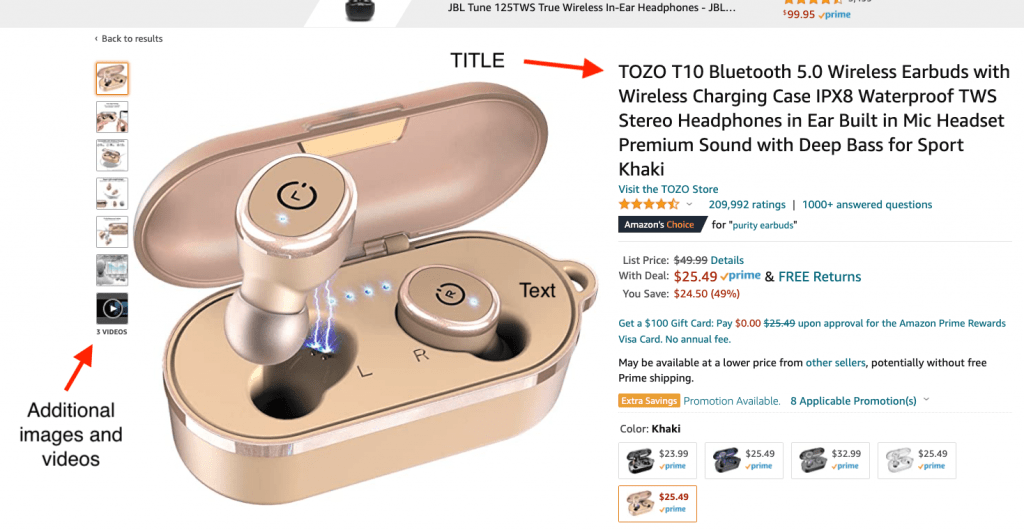 #2: PRODUCT DESCRIPTION
Product description is yet another place to really leverage on Amazons power for SEO. Make this section text heavy with information as you possibly can on the product. This may be the most powerful section after title and images on Amazon. Bullet points SELL. This is what the customer is reading to learn a bit more about the product and really where your persuasion happens. The perfect place to list features and benefits.
CAPITALIZE the Value Propositions and write from there.
Highlight uses of the product. Why they should buy it. What makes it better than others? How will it benefit them?
Support claims of the product or anything that can verify what you're saying if it has claims regarding #1, etc etc.
Keeping with the example from above, see their use of the description with the bullet points:

#3: PRODUCT IMAGES
A picture is worth a thousand words. This is just as true in commerce than anything else. Consumers are visual beings and buy with their eyes. While optimizing product images has been a common theme for many years, you'd still be surprised how many images in Amazons catalog are low quality or just not the right image to display.
Product images isn't just about taking a nice picture of your product either. Product image optimization has to do with creating images that have selling value propositions on your products. From the example above, you see the product has at-least 5 images and most of them have selling points, features, and benefits of the products. Many consumers will just decide to buy from the pictures without reading a word of the product description.
You don't need a graphic designer to create these images, you can create very good VP image designs on platforms such as Canva.
TIP: Use images with a minimum size of 1000 x 500 pixels that explain your product.
#4: PRODUCT REVIEWS
Your product reviews have 2 critical roles in the Amazon marketplace.
Ranking signal for Amazon SEO
Purchase decision indicator for consumer
These two factors alone can make or break a product on Amazon. This is absolutely 100% facts. These reviews indicate social proof which as you may already know, its extremely powerful.
To start scaling here, you can use automated services that help automate this process which helps get more volume with reminder messages, etc.
#5: A+ CONTENT
This is Amazons template build out to really expand on a product listing and give the seller the opportunity to make the listing stand out from others as well as really implement design and a real deep dive into the product and brand story.
If you do not own the brand of the product you are listing, this won't be possible. However, if you are, I strongly encourage you to get on this as it really does make a difference in your Amazon listing and selling results. Amazon itself states that product listings with A+ content tend to have 10% more sales. A+ content is available at free of cost for sellers and vendors.
#6: FILL OUT AS MANY PRODUCT FIELDS AS POSSIBLE
When you're adding a product on Amazon, there are SO many fields. These fields are fields Amazon uses to catalog the product and use for the algorithm. While most may seem to serve no purpose to you, it does for Amazon. It's there for a reason, right?
The more information you provide to Amazon, the better it is…for obvious reasons. This also plays out for the consumer as well as these fields do make the the product listing.
For example, the search term is a key field that you should fill out.
#7: PRICE
Amazon is a price sensitive search engine. It made its name on having the best prices on the web for consumers to shop. While it may not be that way anymore, for many products, it still wants sellers to compete on price and a key signal to the algorithm for the buy box. While you have some repricing applications to help with this, IF you can discount your product if the margins make sense and if the brand allows it, you can easily use the Amazon automated repricing tool.
So, here are other things to consider as far as selling on Amazon and the possibilities of success and factors that really make a big difference:
Ensuring stock availability sends a signal to algorithm
Sales velocity
Amazon seems to prefer FBA over FBM listings
Promotions
Premium content (A+) for better consumer experience