Google has put out a growth formula for Google ads broken down into 4 steps. As you will see this can help in other facets of your digital marketing strategy.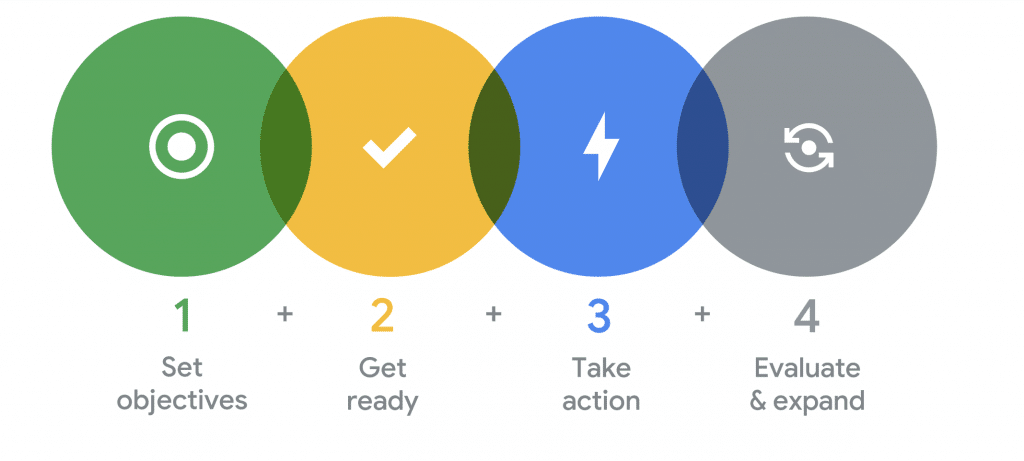 Google commissioned Forrester Consulting to conduct research to understand where key areas of opportunity lie, for both brands and agencies, over the next few years.
Some stats they display in this page that are interesting finds:
69%Â of CMOs say business growth is their leading priority.
46%Â of brands say measuring ROI is a challenge.
Brands expect creative strategy and content work with agencies will increase by 20% over the next two years.
86%Â of brands struggle with automation.
46%Â of brands struggle to effectively derive insights from customer data to address changing consumer behavior.
From this, Google presented a 4 step growth formula…

There's too much to get through here so let me go ahead and highlight what I think are actionable and important steps. Find this incredible resource here.
TIPS TO CAPTURE YOUR AUDIENCE
Find words related to your products or services using Keyword Planner.
Run a branded search campaign to capture customers who are searching for you and ready to buy.
Use Dynamic Search Ads to capture more traffic without adding or managing more keywords.
Use Responsive Search Ads to automatically show customized results based on what users are searching for.
Find new geographies to target using Market Finder.
Make the most of your budget by using Target Return On Ad Spend.
MAKE SURE TO FOLLOW TARGET ROAS BEST PRACTICES:
Start with a Target ROAS close to what you're already achieving, and tweak from there. Starting with too high of a Target ROAS may impact your conversion volume and limit the amount of traffic your ads get.
Give Target ROAS its full learning period, which can be a few weeks — depending on how long it takes a lead to move through your lead-to-sale journey. (Your performance may vary widely during this learning period.)
After the learning period, continue to tweak your Target ROAS to find the optimal balance of volume and efficiency.
Set up your products to show on Google Shopping and Search through Google Merchant Center.
Connect your e-commerce platform directly to Google Merchant Center. (Check with your platform to see if they support this.)
Use Smart Shopping campaigns to automatically target (and retarget) customers with a high purchase intent on Search, Display, YouTube, and Gmail.
GENERATE NEW DEMAND INTO NEW PLATFORMS
Run a Smart Display campaign to automatically target people across all stages of the customer journey on the Google Display Network.
Use a Discovery campaign to automatically introduce your brand to new customers scrolling through feeds in Gmail, YouTube, and Discover.