From eMarketer, "The triopoly of Google, Facebook, and Amazon will rake in 64.0% of this year's $211.20 billion in US digital ad spending, about the same share as 2020 and up 1 percentage point from 2019. We project that Google will lose share over the next two years, and Facebook—now known as Meta—will stay stable, while Amazon will grow its slice of the US digital ad market."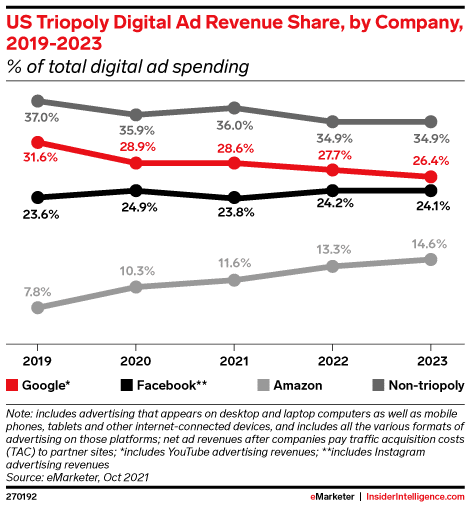 What's interesting is that it's project Google will lose market share in the ad space vs. Facebook, now Meta keeping steady and Amazon increasing its market share in the ad spend.
It's of my opinion that Amazon may take even more market share in the next few years as it develops more ad opportunities for its million of merchants that monetize their products on their website.
The shift to Amazon ad spend is real. I see it first hand and there is a good return there as there is a big trust factor within the community already shopping on the platform. I can already see some serious ad opportunities for Amazon within its POSTs beta program right now to sponsor content. Right now, Amazon is mostly a product engine for its ad business, what it doesnt have yet is an ad platform that allows for brands to sponsor content.
On the other side of the coin, it will be interesting to see if this forecast of Facebook (META) holding steady with its ad business given the privacy changes that are occurring and how effective it is for brands and companies to advertise on the platform, being Facebook, Instagram, and Whatsapp.