2020 was the year that e-commerce really took a sharp turn north. COVID truly accelerated the world of digital commerce. Everything from ordering groceries, to furniture, to basically anything that can be purchased digitally, was. 2021 is the year where the trend continues to rise, expectedly, just not at the rate it happened in 2020.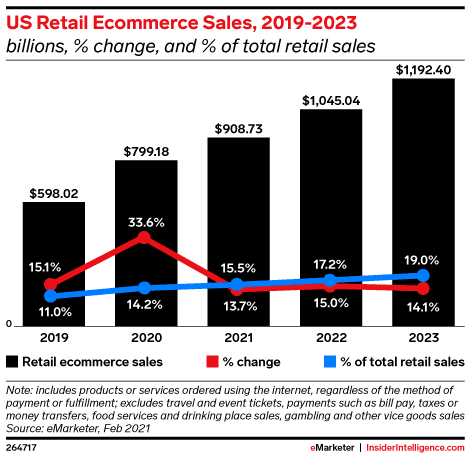 Let's look at some key stats reported by eMarketer:
We did a massive upward revision for 2020. Before the pandemic, we expected US consumers would spend $674.88 billion on ecommerce in 2020, up 13.2% from 2019. But the pandemic drove ecommerce sales significantly higher to $799.18 billion.


In 2021, we'll see slightly higher ecommerce growth from a much higher base. Our pre-pandemic forecast had US ecommerce sales growing by 12.8% to $761.26 billion in 2021. We now expect ecommerce sales will grow slightly faster, by 13.7%, and also reach a much higher total sales figure ($908.73 billion).


Ecommerce now commands a larger slice of a larger pie. Prior to the pandemic, we expected ecommerce sales would make up 13.2% of total retail sales ($5.779 trillion) in 2021. We now expect ecommerce sales will account for 15.5% of the $5.856 trillion in total retail sales this year.


Ecommerce sales will surpass $1 trillion next year. We expect US consumers will spend $1.045 trillion through digital retail channels in 2022. Prior to the pandemic, we did not forecast ecommerce to reach this milestone until 2024.
Really excited to see what the next half of the year brings for e-commerce. As a strong first half of the year in e-comm, we expect to continue the trend. Ready to start planning for Q4? If you haven't yet …. start thinking about it now.