This might not seem like 'news' but it's definitely an important statistic to note, specially as we think about brand and product placement and marketing budgets
Generation Z (aka Gen Z, iGen, or centennials), refers to the generation that was born between 1997-2012, following millennials. This generation has been raised on the internet and social media, with some of the oldest finishing college by 2020 and entering the workforce. Gen Z is part of a generation that is global, social, visual and technological. They are the most connected, educated and sophisticated generation ever.
More than half of all Gen Zers (58%) and Millennials (56%) have made a purchase based on a recommendation from a social media influencer or content creator, compared with 46% of Gen Xers and 38% of Boomers. They are also more likely to purchase more products due to social media.
From eMarketer:
Gen Z taps a wider array of online and offline sources—including ratings and reviews, social media, online influencers, and in-person experiences.


Gen Z makes little distinction between online, mobile, and offline sources and zigzags effortlessly among them to find information.


In June 2021, half of US Gen Z internet users agreed that social networks were important information sources for shopping decisions.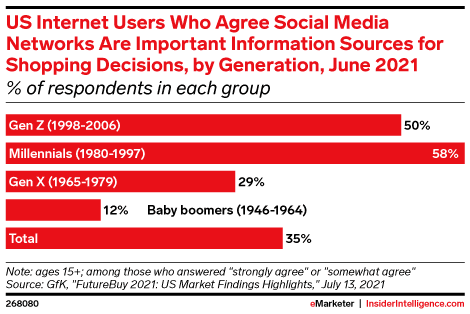 (It's noteworthy that while this article highlights Gen Z, millennials polled higher in this specific poll.)
Turning to social media to research a product or brand is a common behavior for Gen Z adults (18 to 24) after hearing about a new brand or product, and nearly half of survey respondents in July 2021 said they will use social media to purchase.


Gen Zers cited YouTube as a popular social choice for researching products, followed by Instagram, Facebook, and TikTok.


More than older cohorts, Gen Zers are likely to engage with brands through social media. A higher percentage of Gen Zers follow brands on social media, are more likely to purchase from a brand with a strong social media presence, and more have purchased a product because of an influencer.


When asked which products they are most likely to buy due to social media, Gen Zers' top-cited category was clothing, followed by beauty/skincare products and technology.
Gen Z's shopping behaviour is critical to understand due to this generation being the newest to join the workforce and having purchasing power. They're willing to shop across channels, have an appetite for higher-quality items and are eager to stay on top of cultural trends.
Gen-Z makes up for 40 percent of the number of U.S. consumers and by 2026, Generation Z will surpass millennials as the largest consumer base in the U.S. So, brands need to get to know them.