What is the STP marketing model? STP marketing is an acronym for Segmentation, Targeting, and Positioning – a three-step model that examines your products or services as well as the way you communicate their benefits to specific customer segments. STP marketing represents a shift from product-focused marketing to customer-focused marketing.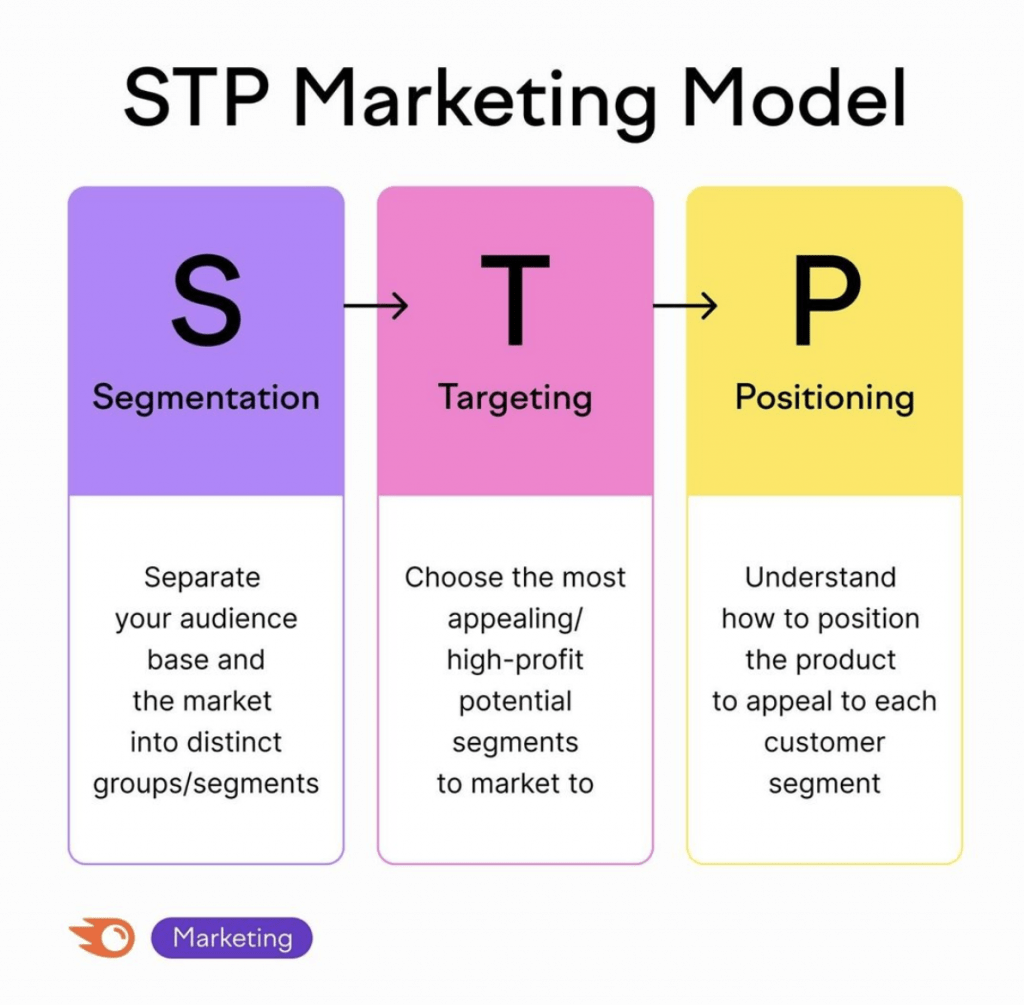 The STP model is something all marketing teams need to do to focus more on the customer journey through personalization for targeting. This is really where first party data becomes extremely important with the fading cookie.
This audience-focused model helps you:|

➡️ Prioritize propositions
➡️ Deliver marketing messages that are relevant to your target audience
Here are the basics of STP:
Segmentation 👉 identify the key audience characteristics that will split your audience into separate segments.
Targeting 👉 based on demand analysis, define which customer segments would potentially bring in higher profits, have a longer life cycle, and be more compelled by your product.
Positioning 👉 identify how to position your product in front of different customer segments.
Hey, while you're reading this, if you're serious about growing your online presence and scaling, you have to check out SEMRUSH. It will change your digital marketing and make it really easy.
Segmentation is the key as it's what set's off the marketing process.
According to the popular "DAMP" approach to targeting, as defined by Philip Kotler (1984), for market segmentation to be effective, all segments must be:
Distinct: each segment must clearly differ from other segments, which makes different marketing mixes necessary.
Accessible: buyers must be able to be reached through appropriate promotional activities and distribution channels.
Measurable: the segment must be easy to identify and measure.
Profitable: the segment must be sufficiently large to provide a stream of constant future revenues and profits.
Benefits of using the STP Model
The key benefits of using the STP model include:
enhancing a company's competitive position

providing direction and focus for marketing strategies (including targeted advertising, new product development, and brand differentiation) by allocating resources to target segments

identifying market growth opportunities through identification of new customers or product uses

effective and efficient matching of company resources to target market segments which promise the greatest return on marketing investment (ROI)
Segmentation in marketing is nothing new, but it's quite crucial in todays digital landscape, with the technology available and the way we gather data, that we keep this strategy TOP OF MIND to ensure an effective and efficient digital marketing strategy to win in e-commerce.
The STP model can be used in pretty much every channel.