I have to admit something. I've been doing digital marketing for over 20 years and I feel only recently I started to truly grasp how to effectively build content for different parts of the sales funnel. I've been really good at building content for SEO purposes, but I wasn't putting too much thought into the customers journey.
This has really changed in the last two years and it's changed my digital strategy in every way. It's the part of marketing I now enjoy the most to strategize and work on.
But, enough about me. SEMRush, my favorite digital marketing tool for SEO & PPE has put out an incredible piece of content on the content marketing funnel for top of funnel (TOF) middle of funnel (MOF), and bottom of funnel (BOF).
"…That's why, this year, SEMrush aimed to find out how to build an effective content marketing funnel that attracts and converts by conducting a survey among 350 marketers across the globe."
Let's get right to it.
TOP OF FUNNEL SURVEY
So…what's top of funnel? Top of the funnel marketing refers to the first stage of the buyer's journey. Marketers and media buyers should target the top of the funnel when attempting to bring in new traffic to nurture.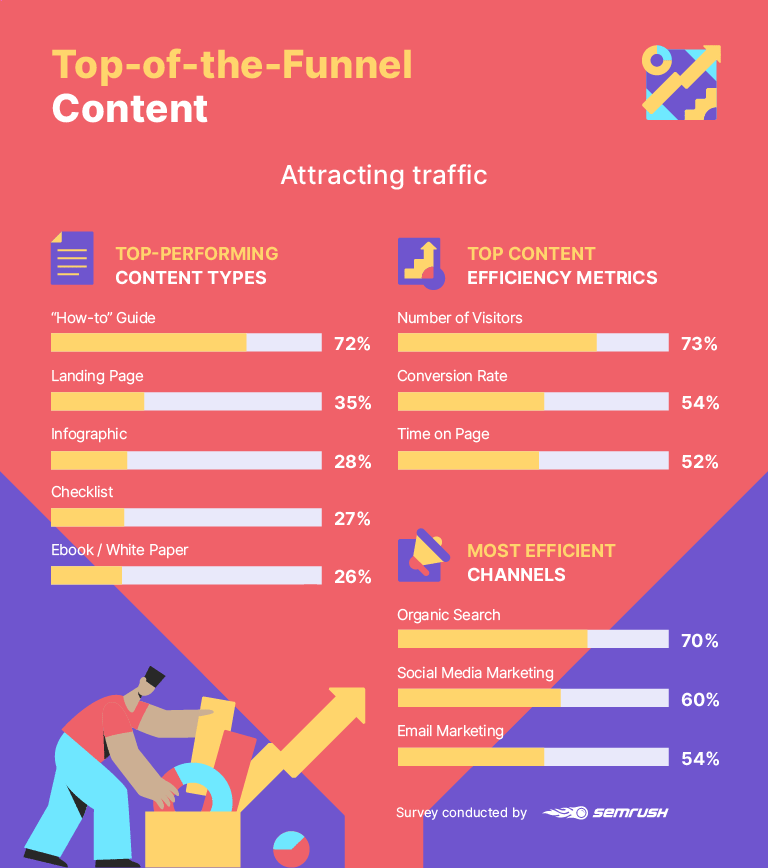 Key Takeaways:
How-to guides seem to really be a favorite among marketers to bring and attract and build an audience, by far.

Number of visitors is the preferred metric to gauge the success of this funnel.

Organic search through SEO is the most efficient channel for top of funnel traffic.
MIDDLE OF FUNNEL SURVEY
What's middle of funnel traffic and its purpose? The middle funnel is responsible for turning new visitors into qualified leads or 'more' interested customers.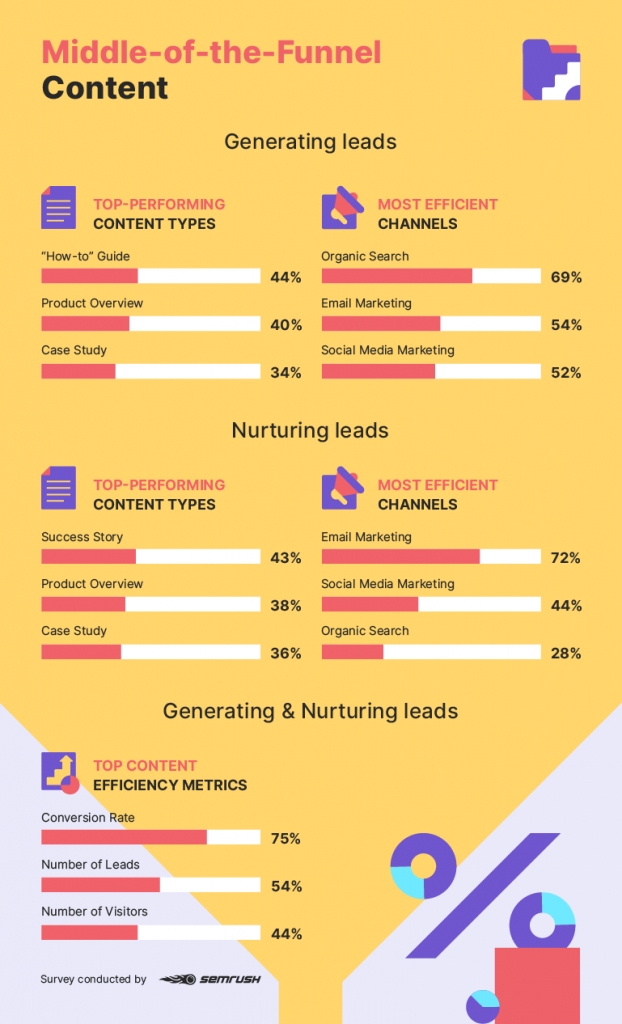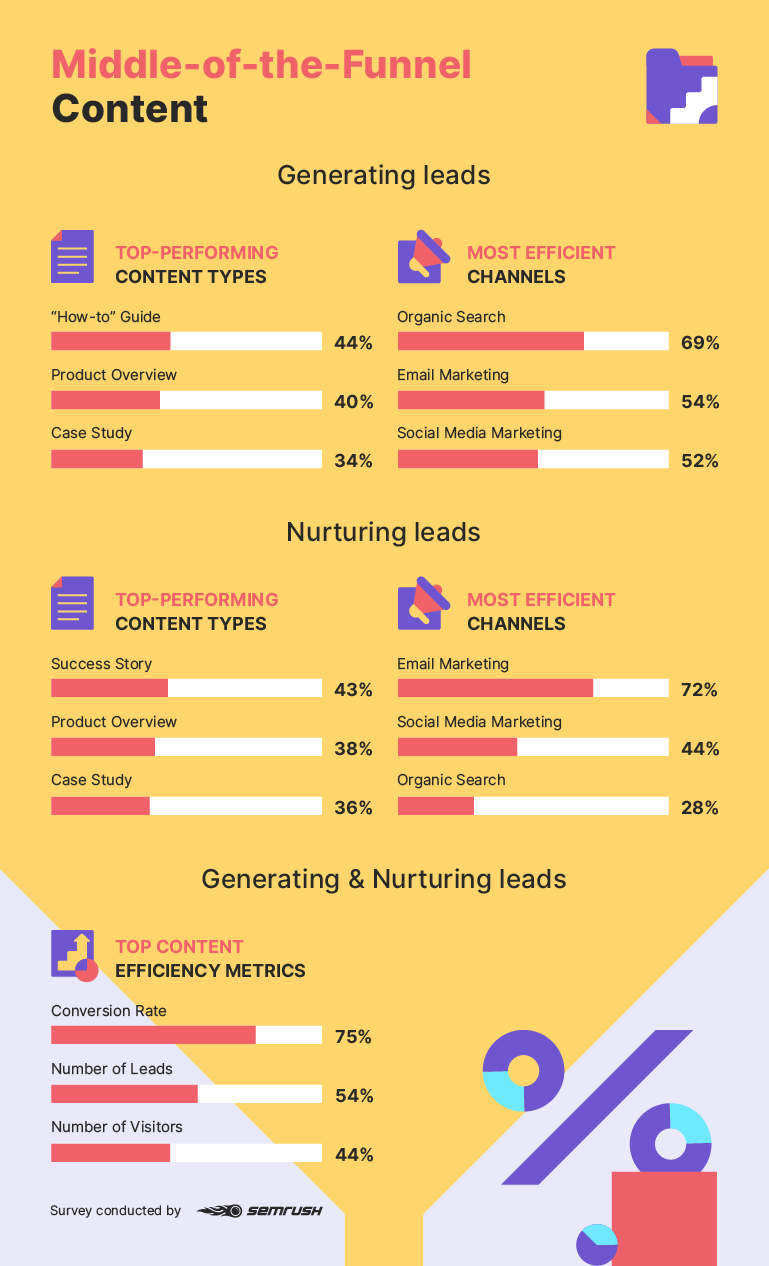 Key Takeaways:
In generating traffic, How-To articles still was the favorite or more effective piece of content while organic traffic was the most efficient channel. This is the same as top of funnel.

When it came to NURTURING this audience, success stories was the top performing piece of content and e-mail marketing was the most efficient channel.

Conversion rates was the #1 way to gauge the content and strategy.
BOTTOM OF FUNNEL SURVEY
What is bottom of funnel marketing? Marketers continue bottom of funnel activities to encourage repeat actions by the consumer or audience.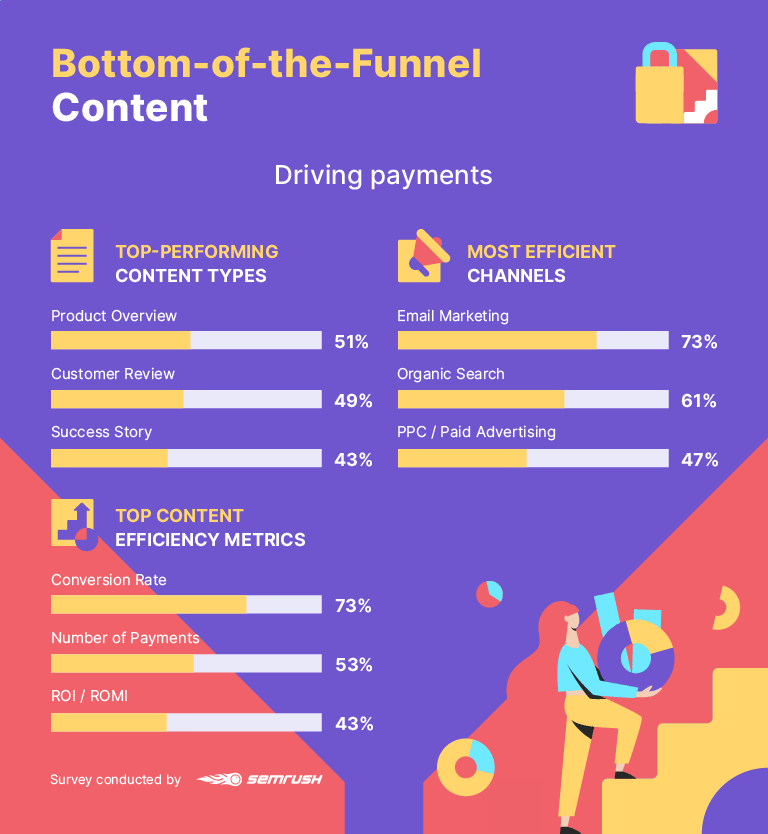 Key Takeaways:
Product overviews and customer reviews are the top performing content types for bottom of the funnel marketing.

Email marketing is the most efficient traffic source for BOF strategies.

Conversion rate is the top efficiency metric for BOF traffic and strategies

While I highlighted the key takeaways from each funnel, each infographic can give you really good ideas as to what type of content you can be creating right now for each funnel and what channel you can push through.