When you run a business online, if you think about it, you're ultimately at the mercy of the platforms you use to run and scale your business. I've been at this for over 20 years and I've always hit a bump in the road with certain channels that I was using to run my business and had to learn the hard way that I wasn't in control of my business like I thought I was.
A great example of this is about 15 years ago I was running my eBay business and due to a policy change and restriction within certain products, not only was my eBay store suspended but so was my PayPal account which was linked directly to that store. Overnight, I was left with nothing that I spent time building for about two years. Ultimately, I got that account back, however, it was a hard lesson in not having all your eggs in one basket.
When you invest in the stock market, one of the rules of investing, they say, is to be and stay diversified. This is a core principle I believe is essential to building a solid business online as well.
Over a week ago, through a series of events that had to do with trying to merge Facebook pages, we lost a Facebook page that is very valuable. Thousands of likes in certain post, tons of engagement, great conversions through certain boosted post…all gone. Overnight. Facebook is still providing no clarity as to how the page has magically disappeared into the abyss. It gets even worse. In the last few days, our ad account, which holds an incredible amount of pixel data which we've spent hundreds of thousands of dollars on, has been suspended…what now seems to be for good.
While there is some good people at Facebook trying to help us with this, it's disappointing that a company as large as Facebook can be so vague and nonchalant about such an important business driver to a business that spends money on its platform.
Until now, Facebook has not provided any clarity as to exactly which policies are being violated and what ad has triggered this suspension. Our only hope at this point is that the good people that are trying to assist us can provide some clarity to get us back on track.
Nevertheless, the point here is how important it is to stay diversified. From PPC, SEO, Social, eMail, and others, everything matters. Everything is important. Each channel can help leverage the other but never stay focused on just one because as I said in the beginning of this post…you're at the mercy of the platform at the end of the day.
A single algorithm change, a single policy change, and your business can turn upside down overnight. We've been lucky enough to have stay very diversified.
Wondering how your business traffic sources break down?
Google Analytics – Go Acquisition -> All Traffic -> Channels
See how your traffic breaks down by channel by downloading these numbers and putting them visually into a chart to give you a good, clear picture of how your traffic breaks down. Take it a step further and go into SOURCE/MEDIUM and see how it breaks down by source. You may identify some opportunities there as well.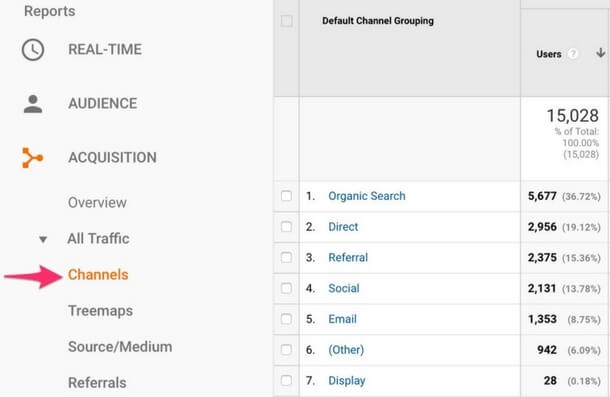 2. SimilarWeb.com
I absolutely love this tool. Type in your websites domain and see how the traffic breaks down through this tool. Its might not be exact, but it will give you a pretty decent benchmark.

Option #1 is the way to go as that is your own websites data.
How is your traffic breaking down by channel? If there is a channel that is dominating the traffic, start strategizing as soon as possible to start diversifying your traffic as a way to protect your business against a downturn in that channel through any possible change.
What is the perfect diversification of traffic? Ideally you should hav 1/3 paid search, 1/3 seo, and 1/3 social , but usually that's not always the case. If you see one traffic channel has the bulk of the traffic…it's time to make a change.
[
STORY UPDATE ON FACEBOOK ADS
: The ads account, not the page, has been re-enabled with the help of a few awesome individuals at FB.]