Twitter has announced that its testing shopping modules with certain brands, profiles, to continue to push toward trying to bring commerce to the platform. This is where all social platforms are going as they all see social shopping as the big trend happening, within platform. We see this within China with all social platforms being very heavy on the shopping side.
As explained by Twitter:
"The Shop Module is a dedicated space at the top of a profile where businesses can showcase their products. When people visit a profile with the Shop Module enabled, they can scroll through the carousel of products and tap through on a single product to learn more and purchase -Â seamlessly in an in-app browser, without having to leave Twitter."
You can see that the announcement starts by basically saying, hey, yeah got off track for a while but…now it's a real focus.
"Remember 2015? The timeline was divided about the true color of this dress. We got our first up close look at Pluto. Culottes were cool. And at Twitter, we were in the early stages of exploring shopping on Twitter with features like the "Buy Now" button, product pages and product collections. 
We eventually stepped back from our shopping pursuits to focus on other areas. Now, as you heard from us earlier this year, we're back and putting more energy into testing out the potential for shopping on Twitter. 
As one of our first steps forward, today, we're launching a pilot of the Shop Module — a feature that allows us to explore how shoppable profiles can create a pathway from talking about and discovering products on Twitter to actually purchasing them."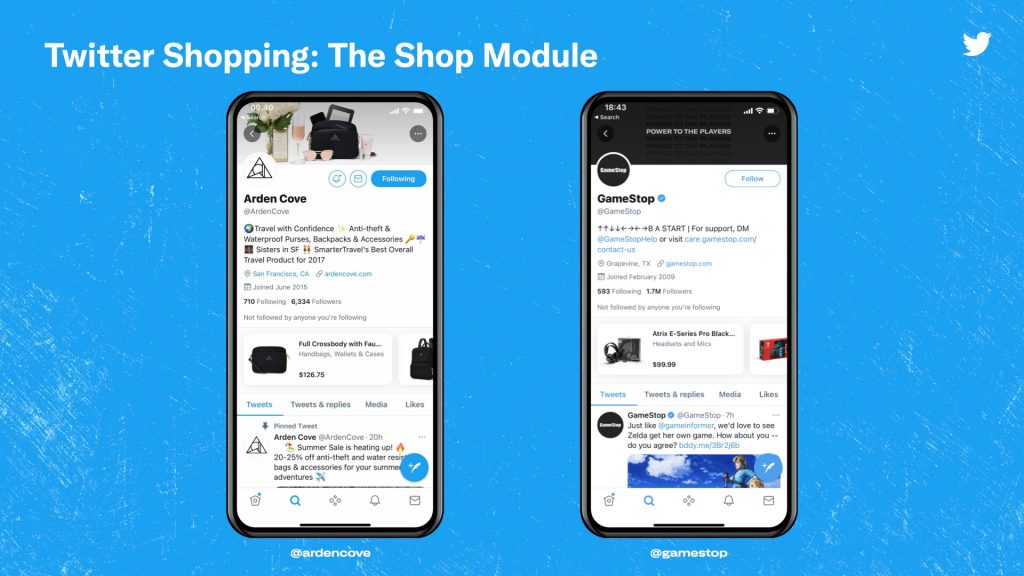 As reported by TechCrunch, "Professional Profiles, which began testing in April, give businesses, nonprofits, publishers and creators the ability to display specific information about their business directly on their profile, including things like their address, phone number, operating hours and more. Essentially, it's the Twitter equivalent to something like a Facebook Page for a business.
At launch, the new Shop Module will be made available to only a small group of pilot testers. In addition to gaming retailer @GameStop and travel brand @ArdenCove, Twitter says there will only be approximately 10 other brands across the lifestyle, traditional retail, gaming, media and entertainment, tech and telco industries who will gain access to the new feature.
At present, Twitter isn't offering a way for interested businesses to sign up for the pilot because the company is only in the initial phases of testing this feature, it said."
I think there is a big opportunity for commerce on the platform and Twitter knows it, thus becoming a new point of focus moving forward toward Q4. With so much conversation happening on the platform and the spike in sms commerce, conversational marketing is here and Twitter has the platform to be part of this new form of marketing and commerce. KEEP AN EYE ON THIS.