eMarketer has released a report on e-commerce sales by category in 2021. As we seem to be winding down from the pandemic, here in the United States, for now, it will be interesting how the landscape of e-commerce keeps shaping up. We know in 2020, e-commerce was at the forefront of global commerce. As the vaccines roll-out and the public starts heading out to shop again, the growth won't be like 2020. Having said that, the increase in digital shopping adoption won't go back.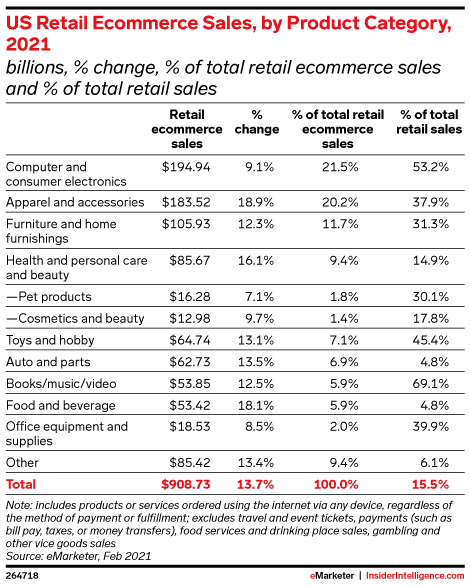 Looking at that chart, we can see the categories ranked from highest to lowest in terms of e-commerce sales, and an important metric for sure. What is most interesting, is the metric of percentage of change by category.
E-COMMERCE CATEGORY BY GROWTH IN 2021:
Apparel & accessories
Food & beverage
Health / personal beauty / personal care
Auto & parts
Others
Toys & hobbies
Books / music / video
Furniture
Cosmetic & beauty
Office equipment & supplies
Pet products
KEY STAT: Apparel/accessories will be the fastest-growing retail ecommerce category this year, as the subsiding pandemic unleashes pent-up demand for clothing.