I know. YouTube Shorts came out a bit ago but the more I watch and see these, the more I can't help of the opportunities YouTube has given e-commerce (or any) brands with this new video format that's very easy to digest and an easy way to create content.
What are YouTube Shorts? "Shorts is a new short-form video experience for creators and artists who want to shoot short, catchy videos using nothing but their mobile phones," from the YouTube blog.
What is Shorts?
Shorts is a new way to express yourself in 15 seconds or less, and our team is focused on building its foundation across three main areas:
Create: Creation is at the core of short-form video, and we want to make it easy and fun to create Shorts. We're starting to test just a few new tools for creators and artists with our early beta: 


A multi-segment camera to string multiple video clips together,

The option to record with music from a large library of songs that will continue to grow,

Speed controls that give you the flexibility to be creative in your performance,

And a timer and countdown to easily record, hands-free.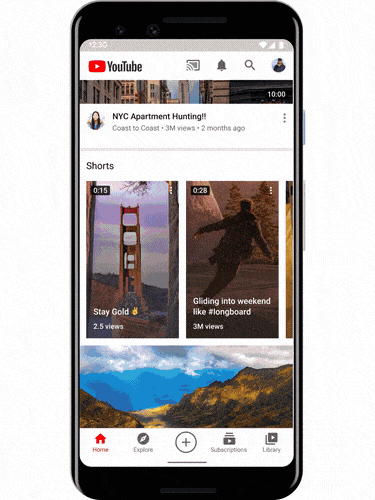 YOUTUBE SHORTS: THE COMPLETE GUIDE

WHY ARE YOUTUBE SHORTS SO POWERFUL FOR E-COMMERCE BRANDS?
I think there's an incredible amount of opportunities for brands that struggle with creating video content that is a bit more elaborated, or one thinks than just written content such as a blog post, etc. This allows for easier content to be created at scale, which after all, is a big part of the YouTube algorithm to have content continuity.
A study also shows that  the videos no longer than 2 minutes gain the maximum engagement and likes.
Let's list some great pieces of content that work GREAT that you can make YouTube Shorts:
Frequently Asked Questions
How-To's
Product Reviews
Product Launches
News Commentary (anything related to industry, etc.)
Behind The Scenes
Here are some benefits from creating the shorts:
More engaging with a certain audience type
Improve brand visibility with more content
Another possible touchpoint of content for engagement
GETTING STARTED WITH YOUTUBE SHORTS
To record a Short video, go to the YouTube mobile app and select Create  → Create a Short .
Start recording by selecting the Record  button. You can record a video for up to 60 seconds. For videos with music from the YouTube library, the limit is up to 15 seconds only.

Once done, add a descriptive title (up to 100 characters), then select Upload.
Let's see if YouTube #Shorts are here to stay and how businesses start using this tool. As consumer behavior has adapted to consuming content via social channels such as Instagram and TikTok, YouTube still leads video consumption across the board and Shorts gives them another type of content that users can consume.