I've always been a very search marketing driven person. I believe the way to higher profits and scaling sales is when you bet more on intent search marketing than anything else. There's a great stat by BirthEdge that shows that in 2020, 68% of online experiences still begin with a search engine (mostly Google.)
However, I can tell you that Facebook ads is really helping scale businesses to new heights. Facebook is a very powerful platform offering facebook ads, instagram ads and within those two platforms, you have options such as conversational marketing, traffic campaigns and much more.
eMarketer has reported a stat that I thought really stands out in todays landscape and why it's so important for businesses that are still debating Facebook ads as a viable marketing channel.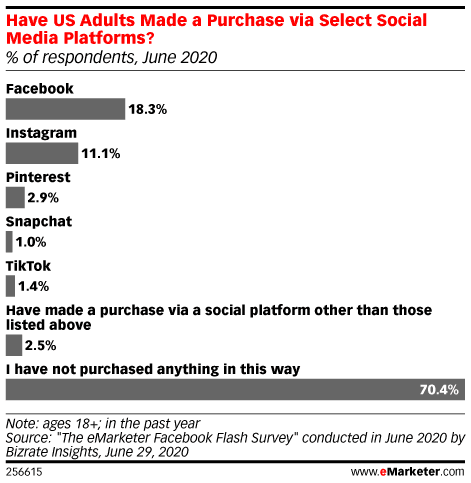 18% of adults have made a purchase on Facebook in the last year. That's very telling of shopping and discovery behavior on the platform. While most companies and brands are focused on Instagram, and the ad experience happens through the same platform, its extremely important to target Facebook as a platform and constantly be testing ad copy and ad creative along with which device is really driving sales. The fact that you can test so many varieties of ad strategies with demographics makes it the best ad targeting platform in the world.
Not far behind is Instagram at 11.1%. Keep in mind, these stats are for respondents over 18 years old. It's interesting to see where other platforms such as Pinterest place in these statistics which give you a gauge if you're trying to spread your budget too thin within social platforms for advertising, go where your audience is and shopping.
Facebook see's this rise in e-commerce, especially through the pandemic and announced Facebook shops to help scale small businesses on their platform.
Facebook Shops make it easy for businesses to set up a single online store for customers to access on both Facebook and Instagram. Creating a Facebook Shop is free and simple. Businesses can choose the products they want to feature from their catalog and then customize the look and feel of their shop with a cover image and accent colors that showcase their brand. This means any seller, no matter their size or budget, can bring their business online and connect with customers wherever and whenever it's convenient for them.