While e-commerce has been booming for quite sometime, I think we can all agree the COVID pandemic brought about a significant shift. This shift just scaled things digitally much faster and there's no turning back. FOLLOW THE TREND. While we can see the impact on COVID in the U.S. and around the world, this brings about more opportunities to scale businesses faster, but we need to start thinking globally as well. While I would strongly suggest to put most of your efforts in growing your current market, global markets pose a good opportunity to start testing them as timing is important to start building a presence.
TOP MARKETS IN 2021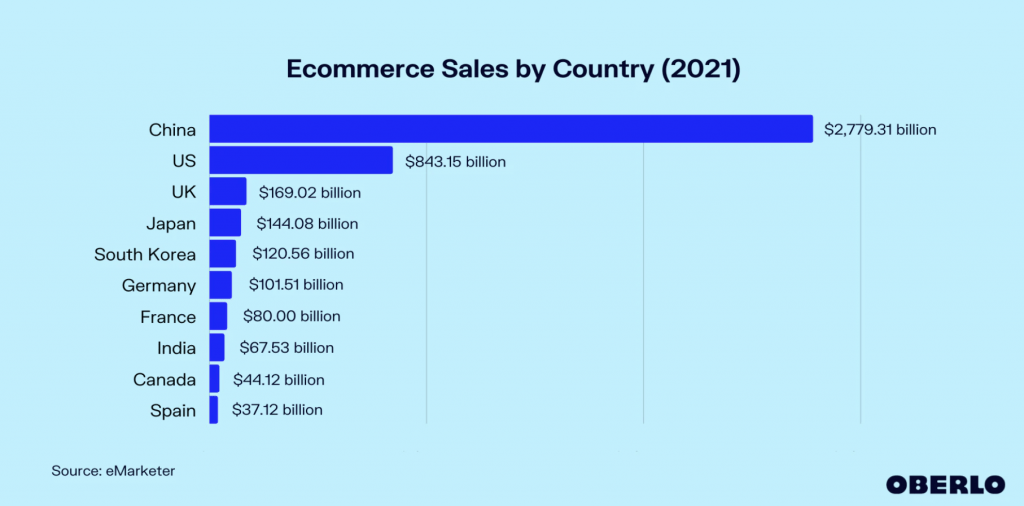 As you can see, China dominates when it comes to e-commerce. While it holds a much larger population, it's also important to not China is more advanced, in my opinion, when it comes to e-commerce in terms of faster adoption of technologies. I would strongly encourage you to start looking at the landscape of e-commerce in China as it's rapidly evolving.
The other markets are important to look at and see if these are markets that your current operation and product lends itself to enter.
A LOOK AT E-COMMERCE BY REGION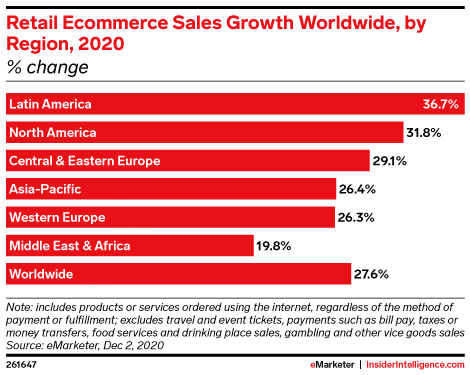 Latin America is showing great growth and great opportunity as a truly emerging market in the world of e-commerce. While this is from 2020, we can assume a continuation of trend.
From eMarketer: KEY STAT: In a banner year for ecommerce globally, Latin America stood out in 2020 with the fastest growth, at 36.7%. That was an increase from the region's 23.2% growth in 2019.
North America still shows great growth throughout and if you're in the United States and not opened to the Canda market, you're missing a big opportunity there. In late 2019, e-commerce retail trade sales amounted to almost 1.85 billion Canadian dollars, with approximately 28.1 million Canadians having made purchases online. Revenue generated within the retail e-commerce market is expected to surpass 33 billion U.S. dollars by 2024, up from 25.4 billion in 2019.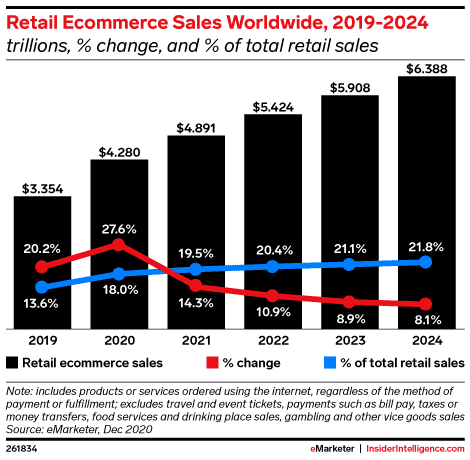 Globally, e-commerce is on the rise and that trend will continue. Positioning and timing are important. There's no better time than now to start looking at other markets to scale your e-commerce business.