SEO is NOT DEAD! Seriously. I think the social aspect of marketing has overtaken focus in most marketing departments…and with good reason. However, we must never leave SEO as a channel too far behind as there are SO many opportunities for brands to establish some good 'organic' traffic that can turn consumers into customers and most importantly, at least from my perspective, is lowering customer acquisition costs by ranking for relevant terms and topics related to your business and products.
This post is based on the video: SEO in 2022 – 5 SEO Tips You MUST Focus on This Year from Matt Diggity
There's a lot of good insight here. Some you know…some you may not. At least it's always a good refresher.
TOPICAL AUTHORITY
This is not anything new but very important nonetheless. You always want to make sure that the content you're building is of value to readers and set a theme that the algorithm and readers know what your page is about. This does build trust on certain topics with the readers and the algorithm. If you want to establish yourself as a blog or company that sells go karts but then you veer off to start writing about golf carts for example, you're losing the authority on topic of go carts as the established topic is being shifted into something else. Try to always maintain on topic and relevant categories. ANSWERTHEPUBLIC is a great tool to help build SEO content for topical authority.
AI CONTENT
This one is a bit tricky but it's definitely worth testing. As AI platforms get 'smarter' on building content this can be a good place to get more content, really fast, and affordable. BUT, here's the thing…as of today…I myself have no found a viable AI content platform that can write cohesive valuable content. I think where there is value here today is platforms that can write in paragraphs well written content based on certain topics and you can manually put that content together to create a blog post.
ENGAGEMENT
Think of YOUTUBE. Again…this isn't anything new but very important to keep on top of mind. Google has learned a lot from user behavior on content and how it interacts with content and what's valuable. These are metrics that are important to Google as a signal of value of content and how consumers deem it's a search result that answer the query. This factors are things such as:
CTR (click through rate)
BR (bounce rate)
TOS (time on site / page)
I think if you focus on those 3 per page, that is good optimization. One good tool to use for this that I currently like A LOT is CrazyEgg.
USER EXPERIENCE
Core web vitals / user experience is a ranking factor that Google announced it will start really influencing the algorithm in a big way. Check out this MUST resource to learn more about this: Understanding page experience in Google Search results
"The page experience ranking signal went into effect for mobile devices in August 2021. We'll begin using page experience as part of our desktop ranking systems beginning in February 2022. The rollout will be complete by the end of March 2022. This ranking launch will be based on the same page experience signals that we rolled out for mobile in August 2021.
While page experience is important, Google still seeks to rank pages with the best information overall, even if the page experience is subpar. Great page experience doesn't override having great page content. However, in cases where there are many pages that may be similar in relevance, page experience can be much more important for visibility in Search."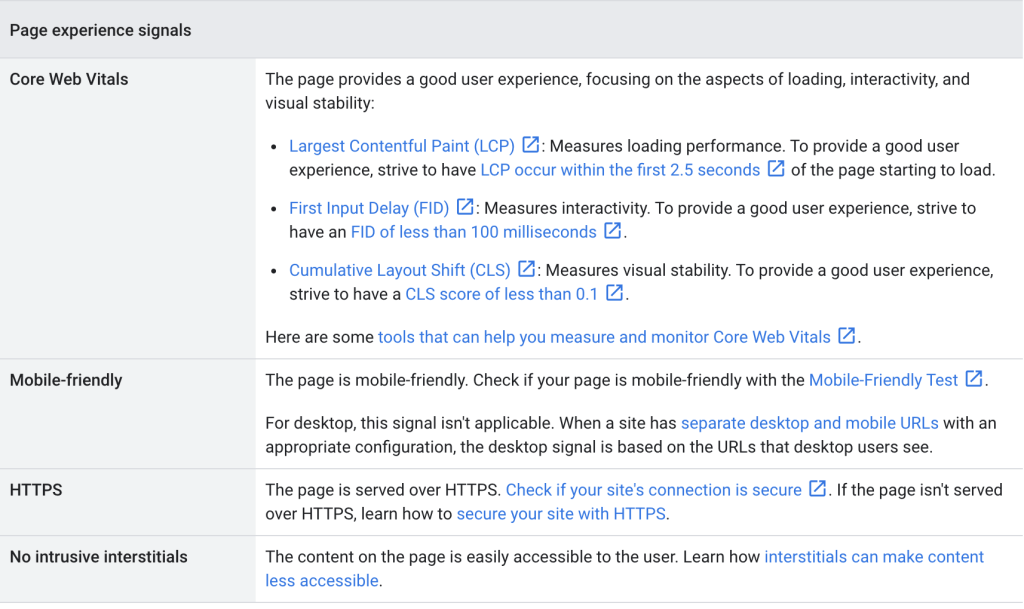 BACKLINKS
Backlinks are still essential to SEO. They are one of the fundamental authority ranking signals and that won't change. However, the days of emailing someone for backlink love are kind of over…this isn't 2002-2006. What generates good quality backlinks are creating content of value that other deem is worth not only sharing with their audience but also care about linking to authoritative sites.
Creating solid partnerships is another great place to build great backlinks.
IN CONCLUSION…
Don't put SEO on the back-burner. It really is important to keep making SEO an important part of your marketing mix as it offers a lot of value from a branding perspective, authoritative, and a great customer acquisition channel.