In 2021, US social commerce sales will rise by 35.8% to $36.62 billion. That's only a slight deceleration in growth from social commerce's blowout 2020, when sales surged by 38.9%, thanks mainly to the pandemic-driven boom in ecommerce and increased social media consumption, reports eMarketer.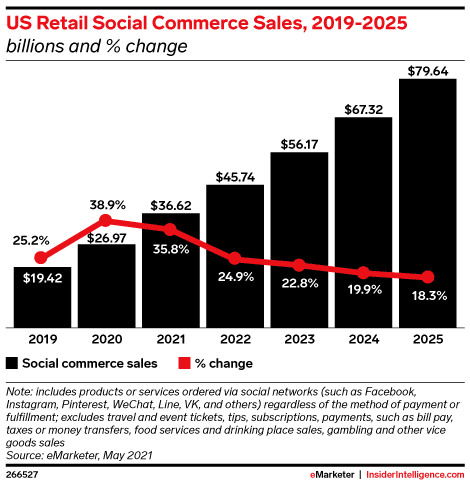 Despite strong growth, the US's social commerce market will be about one-tenth the size of China's—$351.65 billion in 2021. China's social commerce is one U.S. businesses need to look at closely as there are signs U.S. platforms such as Facebook are following suit with mobile commerce among other initiatives which are driving scaled growth in China.
eMarketer expects substantial growth in retail social eCommerce sales in China, even after China had had its horrendous first bout of COVID. They see social eCommerce sales in China rising consistently each year to 2023 – increasing by 11.6% in 2020, 13.0% in 2021, 13.8% in 2022, and 14.2% in 2023, reaching $474.81 billion in 2023.
Any and all e-commerce businesses need to be focused on social commerce, specially coming into the 2nd half of the year to have a solid close to 2021.
Let's look at social commerce by popularity:
While Pinteret represents the smaller share of the big 3, it's worth noting it can pay dividends with the right target audience and product on the platform.