It's always good to seek new emerging markets to see where you can expand your business, or at the very least, start eyeing a new market for potential business down the road. With E-commerce being so global with the ease of shipping and overall logistics, opening your business to new markets is a great way to scale your business. However, know it's not so easy with different countries having different laws and regulations.
eMarketer reports, " In 2022, ecommerce sales in Southeast Asia will reach nearly $90 billion, with almost 65% of the region's sales coming from Indonesia. The Philippines will lead the region in growth for the next several years."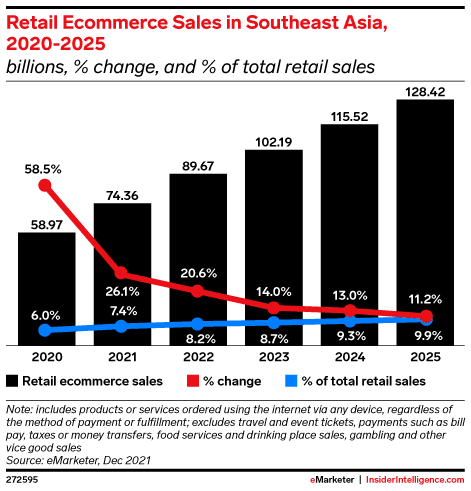 There are currently 158 million e-commerce users in Indonesia, with an additional 63 million expected to take up online shopping during 2021.
The biggest player in the Indonesian eCommerce Market is jd.id. The store had a revenue of US$2.3 billion in 2021. It is followed by shopee.co.id with US$390 million revenue and orami.co.id with US$295 million revenue. Store rankings are based on every store that generates revenue in Indonesia, reports ecommercedb.com.
With an increase of 32%, the Indonesian eCommerce market contributed to the worldwide growth rate of 29% in 2021. Revenues for eCommerce continue to increase. New markets are emerging, and existing markets also have the potential for further development. Global growth will continue over the next few years. This will be propelled by East and Southeast Asia, with their expanding middle class and lagging offline shopping infrastructure.
Here are some great stats by Statista:
Revenue in the eCommerce market is projected to reach US$62,593m in 2022.
Revenue is expected to show an annual growth rate (CAGR 2022-2025) of 12.95%, resulting in a projected market volume of US$90,192m by 2025.
With a projected market volume of US$1,412,109m in 2022, most revenue is generated in China.
In the eCommerce market, the number of users is expected to amount to 221.0m users by 2025.
User penetration will be 64.1% in 2022 and is expected to hit 77.0% by 2025.
The average revenue per user (ARPU) is expected to amount to US$349.81.
Here is a great chart of the ARPU of Indonesia by sector: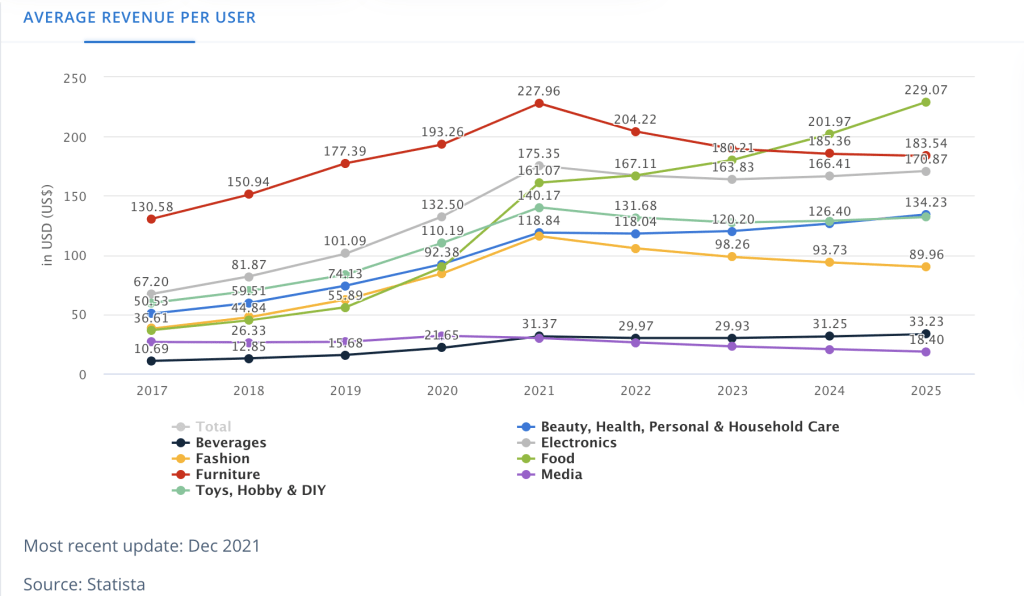 Ready to try and market in Indonesia? Now might be a good time to try and position yourself.