If you've never heard of the term T-Shaped marketer, it's a real thing. I think with time, this term will be more widely adopted within organizations and career circles. So, let's start with the basics and work down.
Before we start, the reason this topic excites me is because I PREACH hard about understanding and having a holistic marketing approach. I think with todays landscape, if your approach isn't vast within different parts of the customer journey hitting on the right channels, it won't come together as it should. It's never been as important as it is today to be a T-Shaped marketer.
WHAT IS A T-SHAPED MARKETER?
The T-Shaped marketer is one who has expertise in a 'few' key marketing facets. For example, you may be strongest in SEO and PPC but you are skilled and knowledgable in paid social, content marketing, etc. Your scope of expertise within a few areas is vast and you can help direct, build out, and scale those channels.
I think visually seeing this is helpful and have two great visuals for this.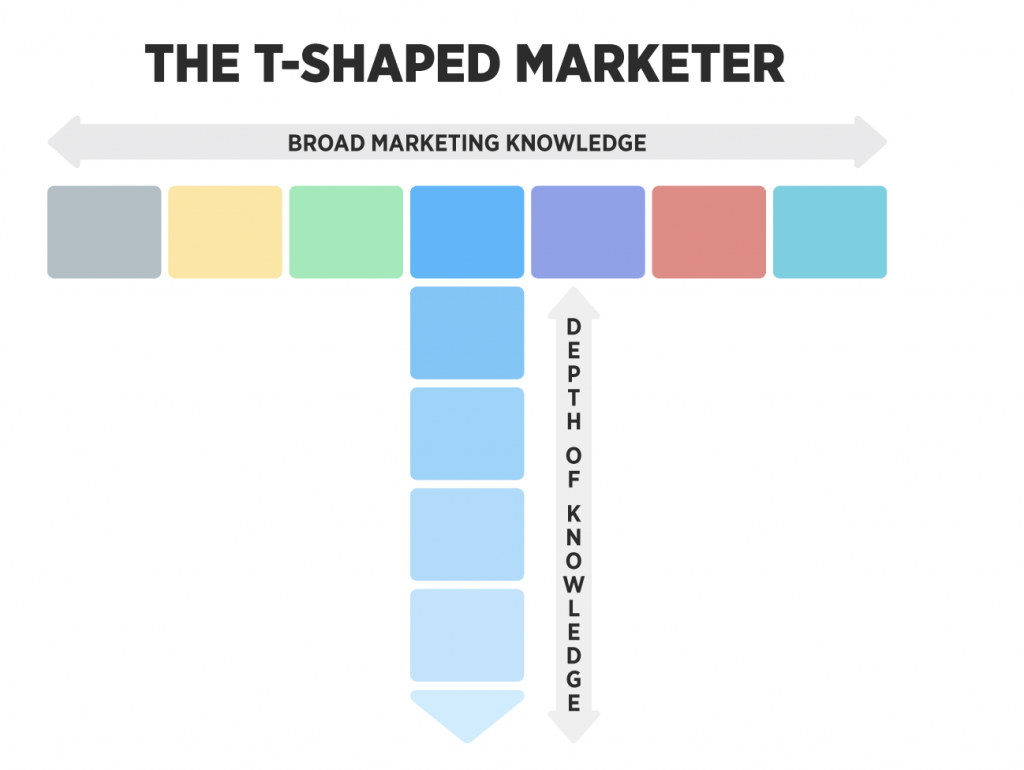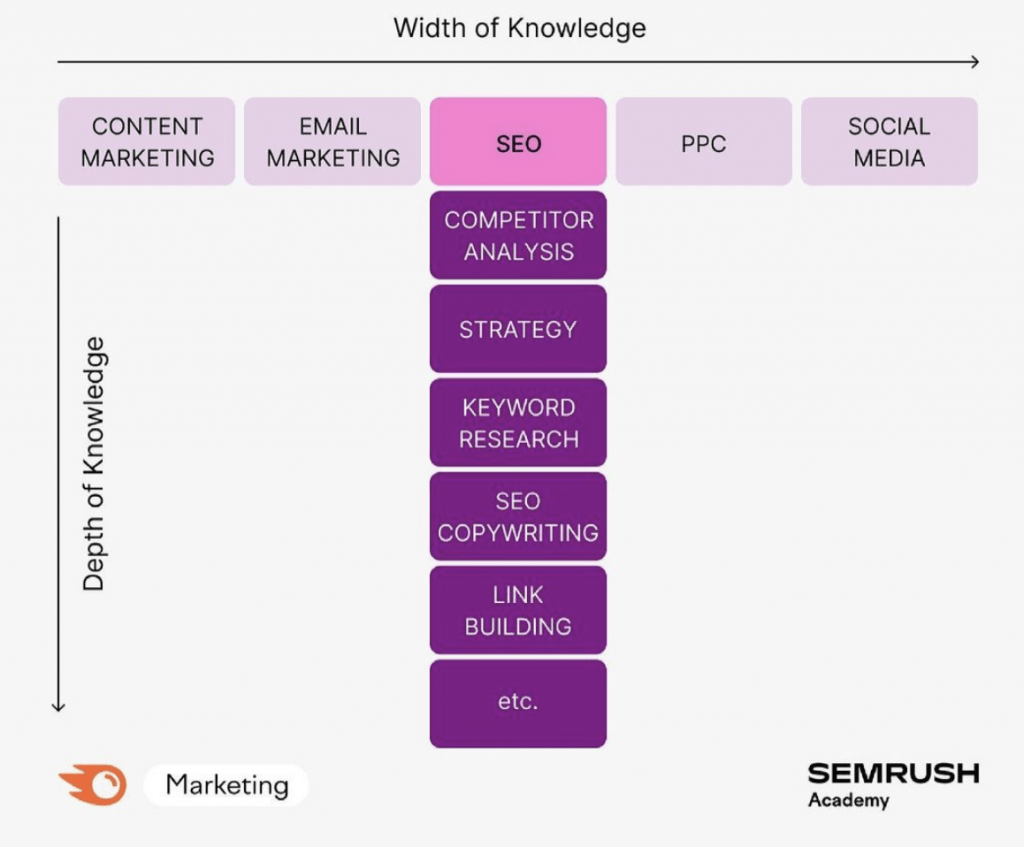 Within the chart, you have width of knowledge and the depth of knowledge.
WIDTH OF KNOWLEDGE: It's all of other facets that you're familiar with—but not necessarily absolute expert in.
DEPTH OF KNOWLEDGE: It's the marketing facet that you are an absolute expert on.
BENEFIT AND IMPORTANCE OF A T-SHAPED MARKETER
Sure, you may call T-Shaped marketer a buzz word, but the importance of this well rounded concept is real. Within todays landscape, when you're working with small teams, large teams, or running a digital marketing strategy on your own, this well rounded person can succeed much more than the person that can only run one channel (or even two,) successfully without grasping or understanding a 360 approach to optimize its chances for success.
The benefit and importance of the T-Shaped marketer, and may be the most valuable asset is that the well rounded and well versed individual can conceptualize a strategy for example that can be a piece of content and understand its value and distribution for SEO, paid search, paid social, e-mail marketing, etc, as where the non t-shaped marketer sees strategy more one dimensional, and I think that's the biggest difference here. It's as simple as that.
This person can better integrate themselves into any team / organization structure and work cohesively with better input and adding more value.
If you're looking to make a career out of digital marketing or working on your own business, this is of great importance to start putting the skills together to become T-Shaped.
HOW TO BECOME A T-SHAPED MARKETER?
The way to become a t-shaped marketer is to having a general and basic understanding of all facets (channel and marketing,) of marketing.
CHANNELS:
PAID SEARCH PPC (GOOGLE, YAHOO, BING)
SEO (GOOGLE, AMAZON)
CONTENT MARKETING
PAID SOCIAL (FACEBOOK, INSTAGRAM, REDDIT, PINTEREST)
EMAIL MARKETING
SMS MARKETING
THIRD PARTY RETAILERS (AMAZON, EBAY, WALMART)
VIDEO MARKETING (YOUTUBE)
FUNNELS:
UPPER FUNNEL
MID FUNNEL
LOWER FUNNEL
* Recommended Resource: Understanding The 3 Stages of Content Marketing Funnels
As the digital landscape is ever changing, faster than ever, it is important to keep up to todays strategies and best practices to hone in on becoming a great t-shaped marketer.