QVC and HSN are still on television. They've been on the air for many years. QVC was founded in 1986 by Sears, I guess there was a time when Sears was innovative. The reason these companies have stayed in business and on thee air for so long is because the model WORKS. Say what you will, American consumers love their QVC and HSN shopping.
QVC International reported: Revenue increased 1% year over year in Q4 and grew 1.5% year over year in 2019. Ecommerce sales rose 6% to $336.0 million in Q4, up from $316.0 million in the prior-year quarter. Ecommerce sales rose 6% in 2019 to $1.11 billion, up from $1.05 billion in 2018.
QVC.com drives around 28 million monthly visitors with its source mainly being direct traffic. So..yes…the American consumer still loves its television live shopping.
So, where does this fit into e-commerce? Many CMOs and companies are taking a liking to live streaming as a new way to capture the attention of the audience through digital channels and platforms.
Take the largest retailer in the world. Amazon. They have launched Amazon Live. I am willing to bet this will be a lot bigger in the next few months, by the holidays, than it currently is today. There is an incredible opportunity for Amazon to capture the QVC audience through this new way of selling digitally.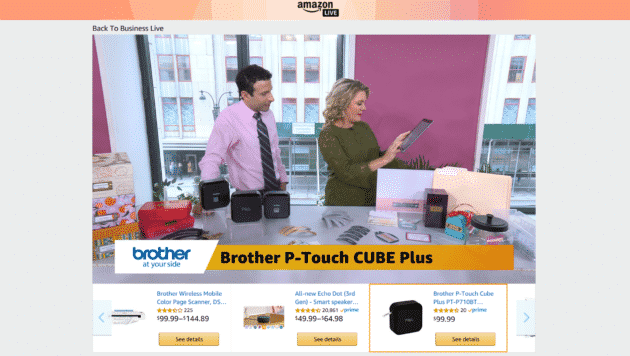 Bloomberg.com reports, This kind of shopping generated $60 billion in global sales in 2019 and should almost double this year, according to Coresight. The U.S. accounts for a tiny sliver of that, less than $1 billion, but after taking off in China and other parts of the world, it's growing quickly in America, including in apparel, makeup and even booze. 
TalkShopLive, which debuted in 2018, is still small as it approaches 2 million users, but sales are up about seven-fold during Covid-19. At Brandlive, which works with hundreds of manufacturers, revenue is expected to double in 2020. CommentSold has seen a 50% increase in spending per viewer this year and more than a three-fold jump in retailers adopting streaming, as annual sales made over its platform are expected to rise from $326 million to $1 billion."
Facebook also provides an incredible platform for live stream selling, see this:
Are you considering live streaming for your e-commerce business? Time to start looking into it is now.