In 2021, SMS marketing is THE go-to marketing channel for retailers. 3.8 billion is the number of people that own smartphones in 2021. 75% of clients want to receive offers via SMS. The CTR rate for offer messages is higher by 9.18% compared to any other digital channel. SMS has a 98% open rate compared to email marketing. As of 2021, 67 million Americans redeem coupons via mobile phones. These are statistics you CANNOT afford to avoid.
In 2020, 48.7 million people chose to receive business-related SMS messages according to Text Local. Consumers are interacting with their mobile phones more and more; According to a survey conducted in February 2021, nearly half of the respondents stated that on average they spent five to six hours on their phone on a daily basis, not including work-related smartphone use.
SMS marketing is taking a front seat with high ROIs that retailers are capitalizing on as sms strategies are becoming big revenue drivers for retailers.
Today, we rank EMOTIVE the #1 SMS platform specialized for e-commerce businesses.
Emotive specializes in using conversational text messaging to assist eCommerce businesses to build 1:1 relationships with their customers. Emotive's technology enables automated two-way SMS contact between you and your customers, allowing them to speak with a live person if they have any queries or concerns. Emotive will assist you in improving your SMS marketing communication strategy without disrupting your brand's operations and by integrating our system with the technology you already have.
A personal story first…
As I was starting to understand the power of SMS marketing, in 2019, I started my search for our SMS marketing platform to find another channel to boost sales and communicate with our customers.
While researching different options for our business, I came across Emotive. Mind you, like any other saas company you start to choose to integrate into your tech stack, these decisions take time. If you're someone like, you look for three crucial factors:

1) Ease of use
2) Drives results
3) Excellent support

Hey…if you like what you're reading so far and looking to see how Emotive works, get a free demo now!

Making An Offer I Couldn't Refuse…

Knowing the power and effectiveness of their platform, Emotive offered us AND STILL DOES, a 5x ROI guarantee or your money back. Their average ROI is 18x!
At the time, we were a very small team, and basically, I had to drive the whole program myself. As I spoke to the people at Emotive, they understood e-commerce better than any other platform from a consumer behavior standpoint and how to best guide us to get the best performance possible out of this new strategy we were implementing.
The integration with our Shopify store was seamless. Thus, began our SMS initiatives.
It Was Time To Start Testing SMS Marketing With Our Customers…

In May 2019, we started testing with some broadcasts, and made $7,789 in sales! You may not think that's much, but at the time, our user base was small as we had just launched our website in less than 12 months. We were able to scale that month over month. Today, the percentage growth in gross revenue from that has grown 1400%. YES! That's a real number.
Today, SMS marketing has become more than just that. It's become one of the primary tools we use to communicate with our customers as we live in a mobile-first world. This has changed the way we look and think about not only how we support our customers but how we engage with them from a sales standpoint as well.
My personal favorite feature where I'm seeing a lot of success is the segmentation aspect. Segmenting your audience is key to delivering the right message to drive revenue. Just as you do in email marketing (and you should be segmenting!) segmentation through sms marketing is just as, if not more powerful, to drive sales.
The Strengths of EMOTIVE vs. Competitors
– ROI guarantees & making brands feel confident
– Scale customer through conversational SMS
– Announce Sales and Promos
– Help recover Abandoned Carts
– Power Brand Ambassador Program
– Copywriting and Creative Services
– Customer Service
– Product Announcements
– Product Recommendations
– Re-Orders

Two Main Competitive Factors:
Conversational SMS, not just broadcast

Success team behind your account, ensuring success and compliance (Big in SMS!)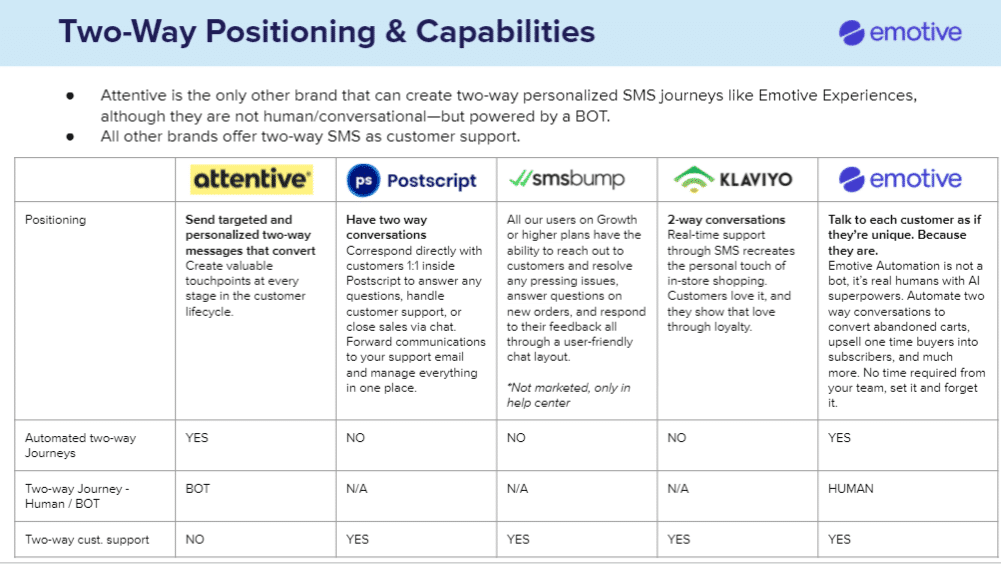 CASE STUDIES & RESULTS: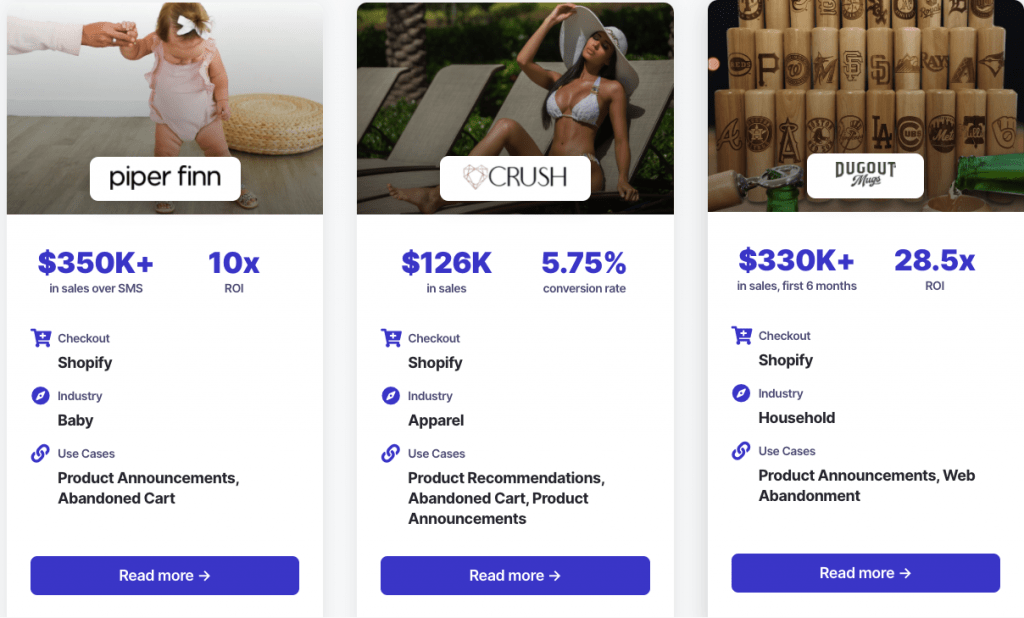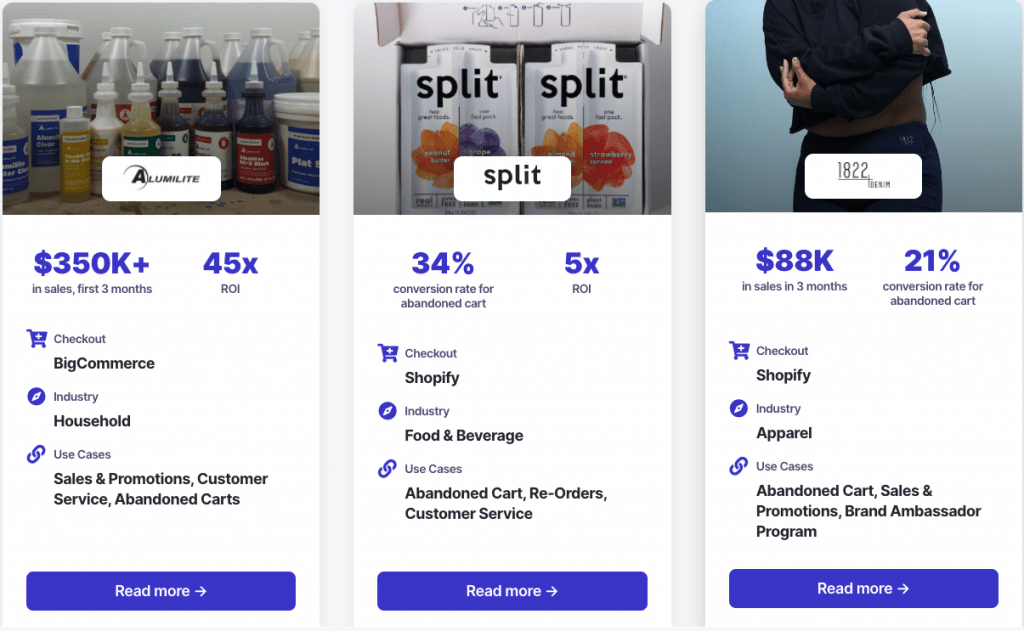 Transparency Disclaimer: After writing this post, and after over two years of using this SAAS software myself, we partnered with Emotive.