Prime day is nearing upon us. Prime day this year, 2021, is set to be in mid June or so (per our secret sources, all over the internet.) Prime day has become by far one of the biggest shopping holidays of the year. In 2020, Prime Day sales reached an estimated 10.4 billion U.S. dollars worldwide, making it the most successful shopping occasion in Amazon history. While this sales boom can be somewhat attributed to COVID, it's become a staple shopping holiday throughout the country, and abroad.
Selling on Amazon, this is where you can really take advantage of consumer behavior but of course, it comes at a cost. Prime Day is known for its attractive price offerings to consumers. So, what that means for you is that much of this day becomes pricing, ESPECIALLY if you're a third party seller selling on listings with multiple sellers.
First…some interesting stats:
Amazon Prime usage penetration among internet users in the United States as of June 2020, by age group

Amazon Prime Day conversion rate in the United States from 2017 to 2019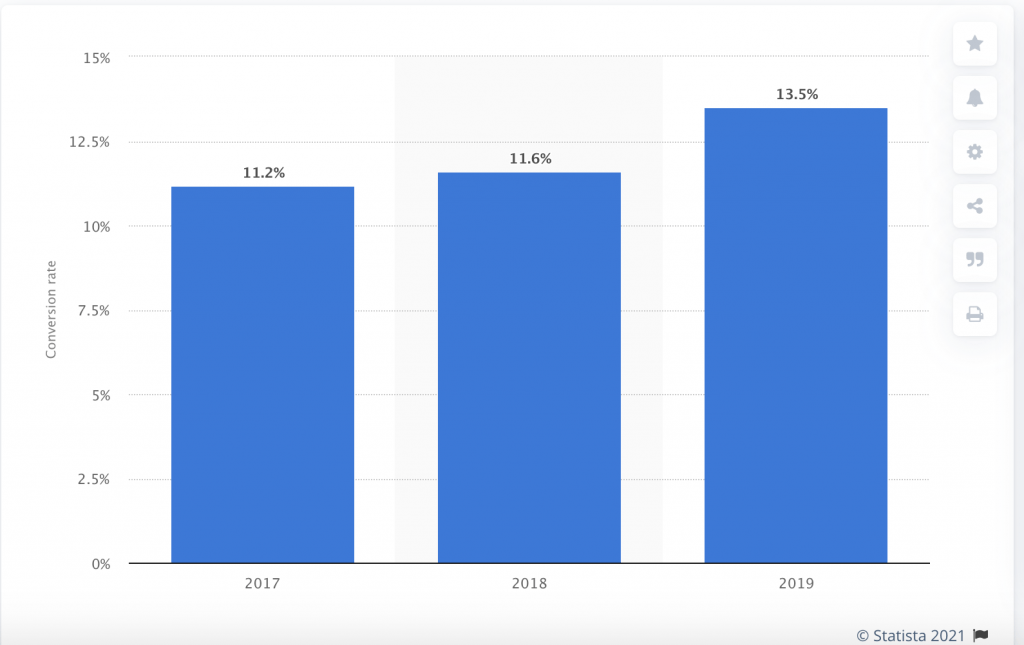 HOW TO BEST PREPARE FOR PRIME DAY SUCCESS
SEND YOUR FBA INVENTORY ON TIME
This is the key to making sure you start off on the right foot. If you don't have FBA inventory, every other plan and/or chance of success during prime day goes out the window. Know the dates and send as early as possible.
May 30: India
May 31: U.S. and Canada
June 1: Australia and Mexico
June 6: U.K., Germany, France, Italy, Spain, the Netherlands, and Turkey
June 7: U.A.E. and Saudi Arabia
June 13: Japan
THINK SAVINGS FIRST. PRICE IS EVERYTHING ON PRIME DAY.
Make sure you put your best possible deal fourth. There is a few ways to make sure that you have a very attractive price listings for your item.
SET-UP COUPONS: Through the Amazon advertising platform, you can create multiple coupon offers for your line of products. This shows up on the product page visible to the consumer and can lift conversion rate.
LIGHTINING DEALS: See if any of your listings quality to run lightening deals. Keep in mind there is a fee JUST to run the deal, plus what you need to discount. However, if one of your main goals is to get eyeballs on your products during Prime Day, this is a killer strategy.
ADJUST PRICING: Just go for it strategy. List the least possible price you can sell your product at and let that run for the day. However, one other way to go about this is using Amazons automated price adjustment that you can set it to automate pricing to where you'd like it to be, competitively.
SIGN UP TO THE MOST POWERFUL AMAZON TOOL FOR SELLERS HERE
OPTIMIZE LISTINGS. NOW'S THE TIME TO GET IN THERE AND MAKE SOM CHANGES.
We wrote a popular post titled, "Amazon's Listing Optimization Guide for 2021," where you can find how to optimize your product listings on Amazon. We'll quickly go over the top features of elements are key for best performance.
Product Title
Product Description
Product Images
Product Reviews
A+ Content
Completed Fields
Price
GO HAM ON THE MARKETING, BOTH ON AND OFF AMAZON.
This is where you'll really need to make a push. Just think about most of your competitors are planning to try and make this day just as successful as you are…but…not everyone can win. So, to have the best possible chance at success, try to really push the marketing harder than you have.
Amazon PPC Campaigns: I'll assume you have these set up by now, but if you don't, well you should. Go to the Advertising section and start setting up campaigns. My recommendation is set up campaigns that touch on EVERY feature Amazon allows such as creating keyword based campaigns, branded campaigns and more. Try every way of pushing the product and through the ACOS you'll see which campaign will perform best to keep that running.


Google PPC: This strategy, and the next I'll mention, really work best if you own the product listing on Amazon. That means that you have a listing that you own the buy box and don't have competitors taking the buy box. The reason being that if you use outside sources to drive traffic, you could actually end up spending money getting sales for your competitors. However, if you do own buy listing / buy box, pushing Google traffic from Google ads can be a great addition to traffic, a more buyer intent customer as well.


Social Paid Ads: Running Facebook and Instagram campaigns to your product can be a huge win. Again, go back to my owning the listing principle before you consider this strategy.

SIGN UP TO THE MOST POWERFUL AMAZON TOOL FOR SELLERS HERE